Page 1 Page 2
Comments from GamePlan Software Users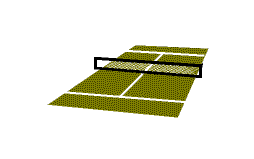 David Mathews runs a junior tennis academy on the east side of Atlanta, Georgia. He uses the Challenge Ladder program to establish an order for the entire academy, which operates at two different sites. "The challenge range feature allows you to limit how far players may make challenges up the ladder. It's great for teaching students that you really move up the ladder in a diplomatic process -- instead of the unreal quick road to the top," says David.
"I also use the ladder results when we play practice matches against other camps," he says. "In the end, it really doesn't matter how old a player is, as long as they can compete. The ladder gives the players a real sense of where they are in our academy, as far as their level of play is concerned."

              David Mathews
              The David Mathews Tennis Academy
              Lithonia, Georgia
              www.dmtatennis.com

---
Lyn Ashton is a singles tennis player in Arizona. "It's hard to find a lot of women (especially working women) who like to play singles," she says. "So every year in the fall, from September to early December, I run a singles league, inviting all the women I have played singles with in the past. The last few years, interest in the league has grown so much that I now have women playing whom I have never met. And, I now have two divisions -- about 12 women in each division. I use your Match Scheduling software to set up the round robin schedule."
"Thank you for a program that has saved me countless hours over the years!"

              Lyn Ashton
              Tucson, Arizona

---
More customer comments: Page 2
---
Thanks for your help. And by the way, for the price that I paid for it, it sure is a nice little application. -- E. H., Connecticut
Thanks for your patience and assistance. Your suggestions continue to be very helpful. The program will be a terrific help for me as I set up tournaments and social round robins at our park in Tucson this next winter and spring. We have 5 courts and almost two hundred people signed up for leagues, round robins and tournaments, so it taxes one's organizational skills to keep everyone busy and happy. -- G. M., Oregon
Once again thank you for responding and for your generosity. I'm sure with your help, the doubles tourney will be a success. -- K. L., New York
Thanks for your help! I am already realizing the benefits of the software. -- P. O., Canada
I find your software really useful. I use it for drawing junior league teams for various sports. -- A. M., United Kingdom
Thank you. Your step-by-step answers to my latest questions about saving round robins and also importing to my microsoft word program did the trick.... Again thank you for your immediate responses to my questions. -- M. W., New York
Thanks for your advice regarding GamePlan. I have tried your suggestion and it works perfectly. Many thanks for your help. -- J. H., South Carolina
Adjustable feature (periods of inactivity, etc.) allows me to run the ladder as the active players have been asking for the last two years. (If you don't play, you drop.) .... I print the tennis ladder issue to file (text) and use the word processor. This way I can add tennis tips (strokes, mental, diet, remarks on specific players, etc.). -- M. H., North Carolina
---
For more information, see the user manual. Download the free software here.
More customer comments: Page 2
GamePlan users -- if you have an interesting story about how you use the software, please send it to us.